WELCOME TO THE 4th U.S. INFANTRY
1861 – 1865

Welcome to the 4th U.S. Infantry
This website is dedicated to the 4th U.S. Infantry, an American Civil War re-enactment group based in the South of United Kingdom that is part of the Southern Skirmish Association (SoSkAn).
Our regiment the 4th U.S. gather together at regular events to perform reenactments of the Civil War battles and skirmishes that were fought in 1861 – 5 by the Confederate States of America and the United States (the Union).
Feel free to have a look around this site and see what the 4th U.S. Infantry and re-enacting is all about, and how it can be of interest to you. We welcome new members to either join the ranks or portray civilian life in camp. As you can see from our Members page we are a growing regiment and welcome both families as well as individuals joining up.
The gallery section allows you to see our regiment both on and off the battlefield.
To find out more about the past history of and re-enacting with the 4th U.S. Infantry, then please visit the about us page, which will be able to give you some details as to what reenacting is all about.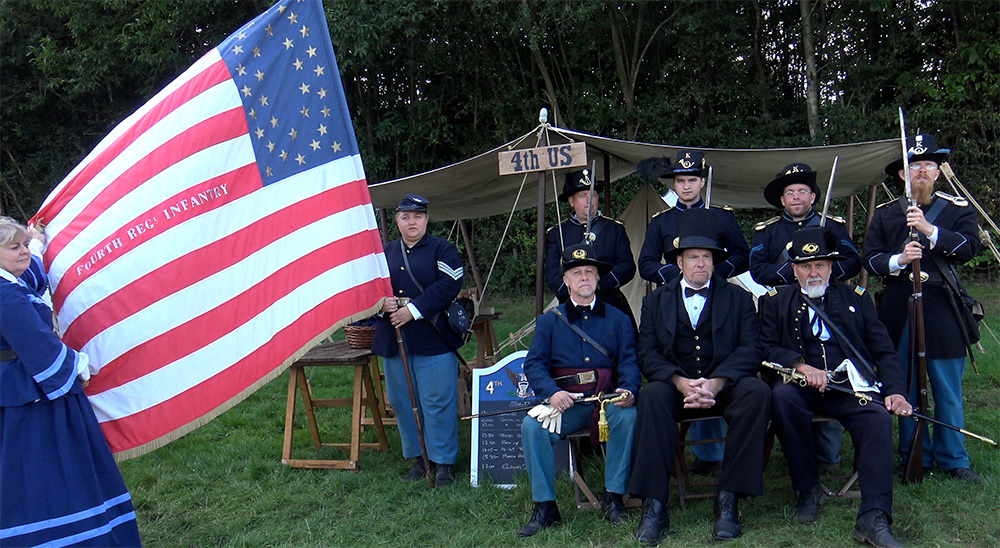 To discover more about the original fourth's history; please visit the History section, which will fill you in on the origins of the 4th U.S. and some of the great battles that they fought in.
The Events page will show you where the 4th U.S will be throughout the year. Our regiment appears in a variety of events around the South of the UK from April to October each year which can be viewed by the general public. This allows you to watch a re-enacted battle or skirmish and see the 4th in action!
Alternatively, you can join in the re-enactments and fall in as a soldier and Join us on parade as a member of the Fourth and be part of the battle itself!
If you are interested in joining or what we do then visit our Recruitment Page to see details of how to join the 4th U.S and become part of this exciting hobby.