WELCOME TO THE 4th U.S. INFANTRY
1861 – 1865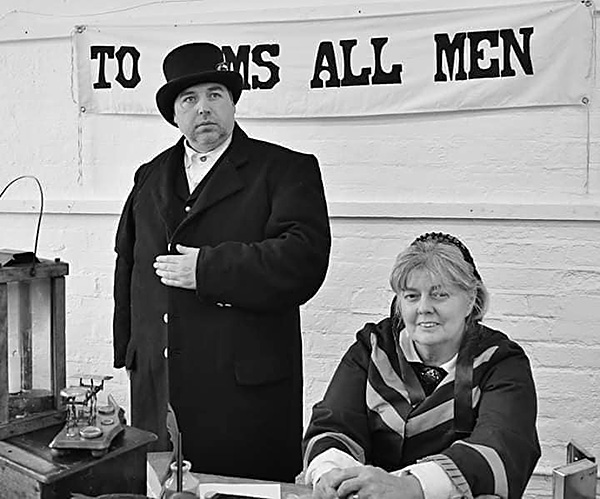 Rae Barwick & Paul Mitchel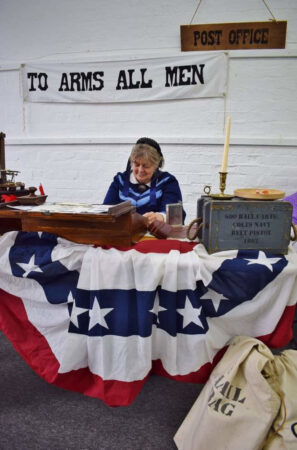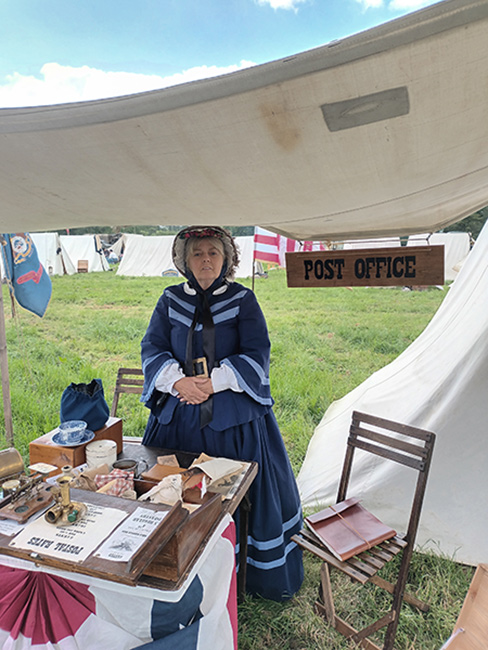 Rae's Post Office at Capel Military Show 2023
Welcome to the 4th U.S. Regular Infantry and to the Civilian re-enacting world!
The 4th US aims to recreate how both the soldiers lived and fought and also their family's way of life during the American Civil War of 1861-65. Although our unit is mainly dedicated to portraying a military impression, we warmly welcome any members who wish to portray a civilian role. Our units Civilian members aim to develop impressions appropriate for a military setting and re-enact the roles of civilian life and work whilst in camp. To: The civilian members of our regiment enjoy taking part in re-enactments, just as much as the soldiers do on the field and are a very welcome addition to both our regiment and to Soskan.
What can I do? What role can I portray?
During the conflict and throughout the country both in the north and south, women and civilian men rallied to aid their fighting men. All civilians and women in particular served in important and vital roles such as factory and mill workers, caregivers, labourers, farmers, doctors, nurses, spies, soldiers, abolitionists, civil rights advocates, and they were also a major drive in all fundraising efforts and in supplying troops with food, clothing, medical supplies and much, much more. Generally in the 1860s many women did not work, especially if they were married and had children, because 'raising the family' and looking after the home was deemed as their main role/job! But as war progressed this often meant the loss of the main breadwinner and extreme hardship for many families, this then presented many women with more opportunities for employment and volunteering that had previously been unavailable to them. During the war nearly 20,000 women (approx.) worked directly for Union army effort, in roles such as nurses, Nuns, laundresses, seamstresses, letter writers or cooks etc. There are also over 400 documented cases of women who disguised themselves as men, who then fought as soldiers alongside their menfolk for the cause. 
Male Civilians
Male civilians are also very welcome and can often portray a role that fits within the Military camp. You may consider portraying an important visitor such as a Senator or Congressman or maybe a role such a undertaker, blacksmith, a clerk, a minister/reverend, an artist, a photographer or a newspaper reporter or you could aim to portray a Sutler (these were similar to a mobile shop/store owners and were licensed by the US Army to operate near the military camp and sell to the Army) However, you should strive to have your impression link to the US Army somehow. The main and key thing to doing whilst doing any civilian role, whether male or female is to research, research, and research again! The list is endless and so is the potential to find a suitable role to reenact and portray that is both historically and period correct for you! 
When developing or choosing a role to portray at events you need to think about the following:
Would it fit in with a military setting and will it fit in with your regiment's impression? Why would you be in camp? Are you a soldier's wife or an official/important visitor to the camp or are you a working person such as a Sutler, or employed by the U.S Army or are you a civilian volunteer or family member visiting camp.
What to Wear – Dressing the Civilian.
We will not pretend that re-enacting is cheap, but there are many ways to reduce the cost. Always ask an experienced member before you buy anything as this will save you making mistakes! Soskan has a very active Civilian Society (SCS) and if you need any help gathering ideas or materials for your impression, then other civilian members in our regiment and in the Society will gladly help.
People are always selling off old kit and this can really save you money! It's daunting trying to get started, but people will try to help you, wherever and whenever they can, and many of us have extra outfits and will be glad to loan you an outfit so you can participate as you collect your own garments. We can also provide information on various vendors from whom you can obtain garments and accessories. (Some of these are listed on the links page). But if you can sew and would prefer to make your own clothing, then we can offer advice on patterns and material choices and will try to assist you with either research and or with any queries you may have. It's always best to research outfits by looking at various period Tin Types/photographs to view pictures of both civilian gentlemen and ladies of the Civil War Era for clothing ideas, hairstyles, and facial hair and there's so much information that can now be found online or in books to help you with your research to find a style that suits you.