WELCOME TO THE 4th U.S. INFANTRY
1861 – 1865

Join the Regular Infantry
The 4th U.S. is the only American Civil War Regular regiment in the UK, and we are always looking for and welcome new members either to join the ranks or portray civilian life in camp. We are a growing regiment and welcome families as well as individuals joining up.
How old do I need to be to Join and participate in the battles?
Anyone can join under the age of 18, although you must be accompanied by an adult and you must be aged 14 to join in the battles.
You must also hold a shot gun certificate and a black powder license before you can fire but there are other jobs you can do before you get a license such as a flag bearer. Or simply come on as a non- firer, which means you get to carry a deactivated musket.
Do you allow female members?
Yes, we currently have several wives, girlfriends and daughters in our regiment and society. We also allow female members to join in the firing line if they wish.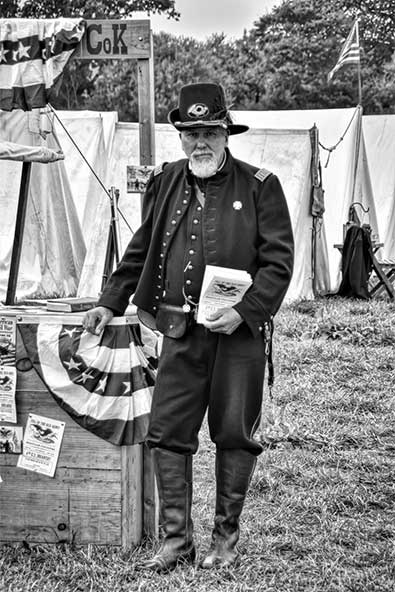 If you like what you've seen at an event, or what you've read on this site and you'd like to give American Civil War Reenacting a go, here is a four step guide to getting involved.
1. Click on the Contact us button below, fill in the form and we will contact you and if you decide to join the 4th U.S. you will be sent a membership form to join our Regiment or you can visit Soskan website soskan.co.uk to join on line.
2. When you have joined you will be sent a Free New Members Recruitment Pack with events list and dates.
3. The new member's recruitment pack will provide you with a list of what basic kit you will need to acquire in the first year, also what extra kit you may wish to get in your second year. It will also give you more information on the 4th and answers to questions you may have or need to know.
4. If you are still unsure, why don't you come and talk to us at an upcoming event or send us a question via our contact form. We'll aim to answer any questions as soon as we can.
We look forward to meeting you and welcoming you into the 4th U.S. family!
JOIN 4th U.S. INFANTRY & LIVE THE LIFE AND TIMES  OF THE AMERICAN CIVIL WAR
​